What is a filter bubble?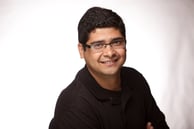 I am a fairly liberal individual. As far as political leanings I tend to be Democratic leaning, no surprises there. And the presidential elections like the one this year make it even easier to be democratic leaning for an individual like me.

But at the same time I do honestly believe that the true conservative viewpoints have a lot of value and have managed to push our country forward. At the very least, I like to read about these viewpoints, seemingly contrary viewpoints, to understand the philosophy that has contributed heavily to the success of our nation.

But lately with the abundance of information, I have noticed that I get my news feeds more from social media sites and digital news aggregators rather than the actual journalistic sources. As this phenomenon consumes our daily lives, I have noticed that a lot of the stories covering the contrary viewpoints have disappeared from my feeds. I have put myself in a bubble of information that supports my viewpoints, and as a result, rather than being more pragmatic by reading about all sides, I have started to become more ideological. This is called a filter bubble, a bubble created by the filters around the choices I make.

Why do filter bubbles exist?

Once we created the internet, the way we have, filter bubbles were inevitable. Most digital sites and social media sites only benefit from having greater number of eyeballs, meaning viewers of these sites. While the internet was created under the principles of democratizing information - creating greater and faster access to information, it never really solved the problem of how to manage this constant abundance of information.

The way it was resolved was through the creation of social media and aggregator sites (eg Huffington post), that can then use machines and algorithms to find the information best suited to an individual and as a result help us consume the most relevant information. How did we manage this before social media? We talked to our friends (real life friends as opposed to the 1000 facebook friends I mean), neighbors, other parents at kids' schools, even water cooler conversations at work. So what has changed? None of these folks were getting paid for sharing information.

But social media or aggregators survive by commercializing their business through advertising. And they make more money when they can keep people on their sites longer, as opposed to provide unbiased information. To achieve this these sites use machine algorithms that figure out the most desirable stories, as opposed to the most informed stories. Commercial pressures to sustain their revenues through advertising have managed to create filter bubbles.

So what if filter bubbles exist

Some of the issues are obvious. Filter bubbles have made us even more seperated our 'physical' neighbors. We don't discuss issues openly anymore in person. Its is far easier to discuss them online with like minded people. But as a result we have started segregating ourselves rather than learning to have a dialogue with contrary viewpoints and learning to co-exist.

This aspect has been discussed on TV and radio a lot especially in the backdrop of elections. But even more critical, we have now started finding physical neighbors based on like mindedness of social views. And as a result our neighbors in real life are people that we would want to connect with in the digital life. This has impacted in creating a more polarized nation, one of the reasons why only 7 states matter anymore in presidential elections.

At an even more extreme, filter bubbles have helped consumers (of the internet) find a place to collect others with weird viewpoints, no matter how extreme or out of the commonly held believes folks have. As a result, we have helped these consumers of internet feel good about being weird, feel proud about being weird. This in my opinion will certainly help create more extremism in future generations.

How do we get out of these bubbles?

There are a few levels at which we can process this information to avoid such bubbles. At an individual level, it is important to make more attempts to include more contrary viewpoints in our life, be it around politics or dietary habits. Discussion alone will lead to the growth of our society.

But as a society we need to strive to create better internet. Hold aggregator sites and social media sites at higher standards. If they are going to be the standard bearers of news, they need to be held at certain standards. And this will allow for our society to progress in a more positive direction.

About the Author:
Amit Phansalkar is a Tech Entrepreneur, Data Scientist, and Evangelist. He is currently the Co Founder at Netra Systems Inc, Partner at sostec.io, and Co Chair, I-COM Data Science Board. Previously, he led data science, data strategy and vision for MassMutual Financial. He led the data venture for MassMutual to create a data ecosystem to help drive innovation in products and consumer engagement models. Mr. Phansalkar has more than 15 years of experience driving innovation and building products using big data and most recently served as the global head of data sciences and advanced analytics at Millward Brown Digital. Prior to that, he was a co-founder and VP analytics at Cognika, where he created predictive analytics products utilizing a combination of structured and unstructured data with applications in defense, ad-tech and healthcare industries. Amit is a data evangelist trying to solve complex challenges and representing complexity using disparate data sources.