FutureM is over, but that doesn't mean the learning needs to end. Angelina Gennis, marketing strategist at SapientNitro, wraps up FutureM by sharing three speakers to follow on Twitter to keep the innovation going.
Angelina (@angelinagennis) is a newly-minted marketing strategist at SapientNitro. Previously a public health researcher at MIT AgeLab, she uses her background in behavioral science to give fresh perspective to marketing research and insights.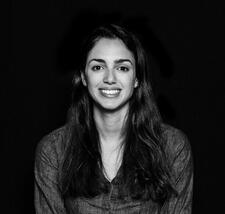 Great thought leaders abounded at this year's FutureM. Perhaps they abound every year, but I wouldn't know. Last time I was at Hynes Convention Center was for the Gerontological Society of America. To say I've experienced a career change in the past few months would be an understatement. So while I can't offer you the conference recap from the marketing expert's point of view (next year, I promise), I can tell you who's happenings I will be following from here on out, because they are not only great storytellers, but true movers and shakers of our time.
Dr. Cynthia Breazeal (@cynthiabreazeal)
Founder, Chief Scientist, Jibo
I first heard of Cynthia Breazeal in college during Writing 101: Evil Robots, Helpful Droids (cool class name, I know). 10 years ago, Dr. Breazeal was making breakthroughs in artificial intelligence with Kismet, her social robot—and that was just her doctoral work. Since then she has developed increasingly sophisticated robots that will make you wonder if friends can't be bought after all. For the future of marketing, this means intelligent and relational technologies in the home, trusted family assistants that have the capacity to be a go-between for brands and consumers in their private lives. Dr. Breazeal emphasized that we should begin considering the ethical implications of using persuasive, emotional technology to reach our audiences, because the future will be here sooner than we think.
Uri Minkoff (@uriminkoff)
Co-Founder & CEO, Rebecca Minkoff
As far as anecdotes go, Uri's story of risking it all to help his sister launch a fashion line got me to dream big. I have a tech-savvy brother, so I must be halfway there! The Rebecca Minkoff brand intentionally pushes the boundaries of what a brand can ask of its customers. Rebecca herself has been known to join online chat rooms to consult with everyday fashionistas' preferences. Through fulfillment of Uri's vision, Rebecca Minkoff is in your dressing room's "smart mirror", offering lookbooks, coffee and even control of the lighting to fit your outfit's occasion. And the bells and whistles work: 30% of people in the fitting rooms are asking for additional items, and in-store purchases are three times higher in sales volume than Uri anticipated. Even if retail isn't your thing, the brand is an on-going case study into emerging research methods and technology applications.
Matt Kressy (@mattkressy)
Director, Integrated Design & Management, MIT
When marketers think 'MIT', I've noticed a lot of (well-deserved) attention tends to fall on Media Lab, so it was refreshing to learn about MIT's newest spot, Integrated Design and Management, or IDM. It's founder, Matt Kressy, emphasized throughout his talk that he has on his hands a different kind of center, where the design guys who didn't get great grades in physics can finally form dream teams with engineers and business leaders. Matt argues that many of the big-shot companies of today were founded by designers: Apple, Starbucks, Tesla, to name a few. What makes Dr. Matt a great thought leader, as well as great teacher, is his love for the underdog who fails over and over again until he gets the right design idea to the right team. Matt's seen his students fail multiple times before suddenly hitting on the next big thing (including founding Airbnb), and I'll be following his work at IDM to see what today's most promising underdogs are up to.