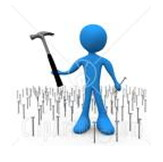 Stop approaching your customer interactions like a hammer to a nail.
That's what yesterday morning's MITX panel discussion,
Integrating Cross Channel Customer Experiences
, was all about - seeing the broader goal as opposed to many singular goals (social media, mobile, web, etc.)
Cesar Brea
moderated the conversation today, and truly gave the audience some thoughtful insights.
Colin Hynes of Staples kicked off the discussion with perhaps one of the most notable shining stars of cross-channel integration of experiences: Target. As Colin delineated the story of his shopping experiences with Target, it was easy for all to understand why integrating across channels is so critical; by creating a practical, positive experience for customers, Target builds loyalty (even from a competitor!). Colin emphasized that Target is constantly pushing mobile, and linking that back to the customer experiences in the stores - because it makes the overall process so much easier to shoppers.

(See Colin explain more of why this is important in his live interview snippet.)