FutureM has added even more exciting speakers this past week. Check out the latest announcement below. Also, MITX members, don't forget you get a discount on FutureM passes! E-mail info@futurem.org to get your discount code.



Other Featured Speakers Include Executives from JetBlue Airways, HubSpot, Scholastic, Guide and Other Top Global Brands
Today FutureM, the annual event showcasing the future of Marketing, announced another round of keynote and featured speakers for the national gathering of brand innovators, business leaders, investors and influencers, which will take place October 16-18, 2013 at the Hynes Convention Center in Boston. Sophie Blum, Vice President of Marketing for The Procter & Gamble Company and Linda Boff, Executive Director of Global Brand Marketing for GE, are the latest additions to the prestigious line-up of keynote speakers confirmed for this year's event.

Linda Boff, a veteran marketer with over 20 years of experience, heads up GE's global advertising and digital marketing along with the company's brand and design strategy. Boff will take the FutureM stage to talk about the importance of transparency for brand success in the coming decade. Boff will also discuss how transparency is driven not only by the accelerating "socialization" of media but also by the accessibility of information about brands.

Sophie Blum is leading the transformation of The Procter & Gamble Company's Central Eastern Europe, Middle East and Africa region into a cutting edge, successful global marketing organization. Blum previously led the P&G Israel hub for almost a decade, is the founder of the P&G Israel House of Innovation, now recognized as one of the most successful Innovation Centers of P&G in the world. Blum will share her perspectives on the future of marketing innovation and how global brands will challenge boundaries and create new white spaces of opportunity within the field in the coming years.

FutureM's 2013 theme, "Innovation at Intersections," will explore the ways digital technology and media are colliding with new industries and ideas to reshape the modern marketing landscape. Other featured speakers in this year's lineup include: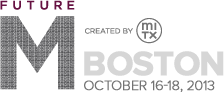 • Leslie Bradshaw, Chief Operating Officer, Guide
• Chris Colbert, Chief Experience Officer, Scholastic
• Dharmesh Shah, CTO & Co-Founder, HubSpot
• Jonathan Stephen, Head of Mobile & Emerging Technologies, JetBlue Airways
FutureM registration is open now at FutureM.org. FutureM will announce additional speakers and events throughout the summer. Keep up with FutureM updates in real-time on Twitter (@FutureMBoston) and Facebook.
FutureM is produced in partnership with IDG World Expo, a leader in the event and tradeshow industry. This year's FutureM sponsors to date include Acquia, Celtra, Constant Contact, Dunkin' Donuts, Google, Mullen, r2integrated, SHIFT Communications, The Boston Globe and Verndale. To find out more about available sponsorship opportunities, visit FutureM.org/Sponsors.