We are wrapping up our e-Commerce blog theme this month but before we switch topics we have an awesome post from John Mulliken, SVP of Strategic Initiatives at Wayfair.com and the Founder and General Manager at Joss & Main. John discusses how the e-Commerce user experience needs to be optimized across all platforms and the role mobile is playing. If you are interested in guest blogging for us, please e-mail me at taylor [at] mitx [dot] org.



John is the co-founder and General Manager of Joss & Main. John spearheads the overall business strategy, as well as the execution of marketing, operations, creative, merchandising, and technology. John and his team work with the best home brands, curators, and celebrities to bring their brand stories to life and make their products inspiring and accessible to consumers. John also serves as the Vice President of Strategic Initiatives for Joss & Main's parent company, Wayfair.com - the No. 1 online-only retailer of home goods. John worked for a decade in strategic management consulting, most recently at The Boston Consulting Group, where he was a leader in the Multi-Channel Retail practice and the Global Center for Consumer Insight.
As the founder and general manager of Joss & Main—an e-commerce site devoted to home furnishings and décor—I run a business, but I really run a consumer delight department that is one part offering, one part marketing, and one part product. It has been exciting to see the interaction of these different areas of consumer engagement, and as mobile has become a huge rainmaker for brands; I am also beginning to see the many limitations of the mouse and keyboard.
A year ago, I don't think I would have ever thought that mobile would be driving my desktop UX agenda, but it is. Anyone who is still thinking about how to replicate their desktop experience on phone and tablet needs to turn their thinking around, and figure out how to strip down their desktop experience to replicate the best of each device.
Rather than trying to take their (often cluttered) desktop experience and do their best to replicate it across all platforms, e-commerce companies need to really customize the shopping experience within the context of customer behavior. It's easy enough to understand that different devices require a different experience, but the best e-commerce players also understand when, where and how their customers shop on various devices.
Is your customer shopping on her iPhone from the bleachers at a Little League baseball game? Or is she shopping on a tablet during her train ride to work? How can you focus on what matters to her?
The more you understand your customer, the better you can optimize the e-commerce experience across platforms.
If a function can perform a particular action on the desktop, we owe it to the customer to also do the same on the tablet or smartphone. You have to first deliver that basic user experience across all platforms and then you can add something totally different that takes advantage of the device's unique attributes. There is often a counterproductive desire to force everything but the kitchen sink into the device, and that leads to a lot of apps and mobile experiences that are just plain terrible.
Are you listening? Really listening? Are you just telling your customer that you're trying to delight her or are you actually showing her something that is delightful?
At Joss & Main, we examine the user experience on each device as a kind of skunk-works project where we can experiment with new types of interactions and escape the routine. By delivering the unexpected, we have a single mission—to delight our members. We interview our members (who, luckily for us, are incredibly engaged and like to talk with us) in fairly informal ways to find out where we can build better products. One of our most fertile sources of information is reviews. When we started seeing that customers were reviewing our apps and telling us they loved them much more than the site, we knew we had something. We had to talk to people and get what they loved back into the non-app experience.
When it comes to mobile, people want to be entertained, distracted and completely wowed with immediacy. There is a greater need for instant gratification. Real estate is also so much smaller on a personal device so it's more important than ever to make sure you are serving up the right content for that particular person. Personalization as a whole is nothing new in e-commerce, but the definition of what that concept really means is quickly evolving. We used to think of mobile as an incredibly limiting arena, but it makes us focus on what's really important. Now we are busy trying to drive that focus into every single one of our channels.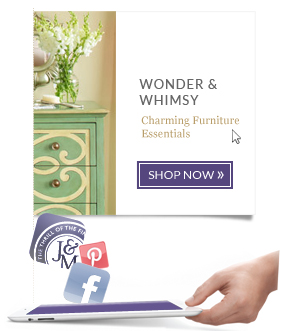 How can we make sure that she finds something she likes this time, so that she'll come back next time—even if she doesn't buy today?
When done right, personalization is completely invisible to the customer. It's about improving the experience to a point where the consumer thinks, "Wow! This company really speaks to me!" As a good rule of thumb, if you have to tell your customers how you are improving their shopping experience, you really haven't done much to move the needle in terms of making your experience truly personal.
Very few companies have gotten this right. While Amazon, Zappos and others do a great job with recommendations that are really simple to understand (if you like this product, then you may like these similar products), there's no real surprise or joy in that experience. It's just not personal enough, and it has become mundane and expected by shoppers. In our categories, it doesn't even make sense—if you've bought one brown leather sofa you don't need another brown leather sofa, you need items that complement it.
At Joss & Main, we are very focused on building a customer experience that speaks directly to each of our members in a very familiar way. Within just a few clicks, we can start to infer what types of images and products each of our members likes. Is this shopper into bohemian chic or Hollywood glam? Are they shopping high price points or low price points? Are they looking for small-scale furnishings or large-scale? Do they gravitate to a certain color palette again and again? These are all areas where we gather data to then present a shopping experience that wows our members each and every time they visit the site. We are beginning to customize our product selection to match an individual's preferences so Joss & Main members explore content that best matches their interests.
In turn, people enjoy the experience more and spend more and more time shopping our events. This helps build the brand's long-term value, leaving members thinking, "They always have something for me." We view this as the equivalent of old-fashioned, gracious shopkeeping; a merchant who knew their customer (or who made an educated guess based on whether she was wearing a mink coat or a t-shirt) would put something on the counter that was likely to appeal to the customer. "I brought this out for you." That thoughtful gesture was often repaid with purchases and loyalty. We just take that relationship between shopkeeper and customer to the next level. This personalization effort started for us in the context of mobile but has led back into our desktop world and has paid off handsomely there as well.
From a functional standpoint, the swiping action that works so well on a tablet becomes a truly amazing way for consumers to swiftly and almost effortlessly absorb content. People can see much more content on a mobile device, so it's important to present that content in a way that feeds the customer's insatiable appetite for more! For example, at Joss & Main and Wayfair.com, we create endless pages of events or products for almost perpetual browsing. Because mobile users absorb content at a rapid pace, they respond well to functionality that delivers as much as possible and keeps them engaged. We have now integrated those findings back into our desktop experience.
Right now, we are loving tablets because our members are. But we're ready to meet our customers on any platform that makes sense for their lifestyle. And when we do, we'll try to leverage what we learn for other devices too.