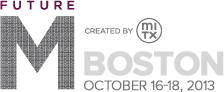 Early Bird Registration Now Open
FutureM, the annual event showcasing the future of Marketing, unveiled its first round of sessions for the 2013 national gathering of brand innovators, business leaders, investors and influencers. This year's theme, "Innovation at Intersections," will explore how digital technology and media are colliding with new industries and ideas to reshape the modern marketing landscape. Early bird registration for FutureM, taking place in Boston October 16-18, 2013 at the Hynes Convention Center, is now open at: FutureM.org.
"Business, technology and media are intersecting in new ways to create white spaces of opportunity for established and emerging brands," said Debi Kleiman, president of MITX, the organizer of FutureM. "This year we'll explore how these converging worlds are charting a new course for Marketing."

FutureM 2013 sessions will bring together industry experts to debate and dissect the shifting marketing landscape. The first session topics and partners selected for FutureM 2013 include Connelly Partners presenting The Changing Brain: Matching Neuroscience + Marketing Strategies; Roundarch Isobar presenting The Future of Television; and ZoomTilt presenting Better Than Red Bull: Converting your Brand into an Entertainment Hub. Other partners and topics include:
Face to Interface: What the Convergence of Digital + Physical Means for the Future of Marketing (AMP Agency)

Imaging + Communications: Driving Consumer Interactions of the Future (ArcSoft)

360 Degree Content (Boston Interactive)

Social + Beer: The Best Brews and Practices in Social (Boston Tweet-Up)

What's Old (and Still Active) and What's New (and Relevant) to the Future (Brain Sells)

Analytics + Modeling: Why Knowing Everything About Your Customers Won't Be Enough (Cantina)

Social + Analytics: Does Social Media Opinion Matter? (Crimson Hexagon)

Hot Digital Marketing Trends 2014 vs. 2024 (Digital Marketing NOW)

I Don't Care What You Think: Behaviors vs. Opinions (Digitas)

Leveraging Games as Powerful Marketing Mediums (GSN Digital)

PR is Marketing's Future (HB Agency)

Experience This. (Holland-Mark)

Fast, Cheap or Great? Killer Content Marketing + Short Time and Money (Image Conscious Studios)

Marketing's End Game: Grow Customer Value Through the Right Experiences (ISITE Design)

Mobile + Messaging: Combating Device Schizophrenia to Get Your Message Heard Across Screens (Jumptap)

Mobile + Advertising: Stop Ruining and Start Rewarding Everyday Mobile Moments (Kiip)

Future of "Freemium:" Driving Business or Out of Business? (Miller Systems)

The $9 Billion Advertising Opportunity: The Social + Mobile Revolution (Moontoast)

Harnessing the Power of Conversation for Mobile Ad Engagement (Nuance Communications, Inc.)

Mythbusting: Engineering a "Viral" Video (Pixability)

The Marketing + Sales Newlywed Game: How Aligned Are Your Teams? (Postwire)

Brand Marketing + Big Data in an Always-on and Fragmented Consumer World (Tremor Video)

Naked Truth: Top Marketers Reveal How They'll Survive and Thrive in the Future (Wilde Agency)

Using Big Data to Reveal Consumer Values and Inform Storytelling (Zenzi Communications & Ranker)
FutureM is produced in partnership with IDG World Expo, a leader in the event and tradeshow industry (www.idgworldexpo.com). FutureM will announce additional speakers, panels and keynote sessions throughout the summer. Keep up with FutureM updates in real-time on Twitter (@FutureMBoston) and Facebook.
This year's FutureM sponsors to date include Acquia, Constant Contact, Dunkin' Donuts, Mullen, SHIFT Communications, The Boston Globe and Verndale. To find out more about available sponsorship opportunities, visit FutureM.org/Sponsors.
About FutureM and MITX
Now in its fourth year, FutureM is a community-curated national event exploring the latest technologies, trends and innovations shaping the modern marketing landscape. FutureM was created by the non-profit Massachusetts Innovation & Technology Exchange (MITX).

Established in 1996, MITX is the leading industry organization focused on the web and mobile, bringing together the digital marketing, media and technology community to engage in what's next and how it will impact the marketing and business worlds. Connecting more than 7,500 professionals in New England and around the country, MITX is a dynamic and growing community of thought leaders and collaborators in search of insight, education, and opportunity. Learn more at www.mitx.org and www.futurem.org