Our May Mobile guest blog series continues with George White, Principal Consultant, Technical Architect at Cantina. George gives some great insight into the many contexts in which we need to look at mobile and the many factors which now come into play as the technology develops. If you are interested in being a guest blogger please contact me at taylor [at] mitx [dot] org.


George set out to be a zoologist and now he is a fifteen year veteran with broad experience in software development and architecture. He has worked in many domains, including Web applications, mobile platforms, content management, internet-connected desktop applications, multimedia, video, networking and systems architecture. George developed a strong understanding of the technology needs of publishing companies during his time at McGraw-Hill and Thomson and consulting with Elsevier and Jones & Bartlett. George is proud of the fact that systems he designed and developed ten years ago are still going strong. Twitter handle: @stonehippo

It's Not Mobile, Its a Sequential Connected Experience
Engagement requires balancing optimization and parity while considering contexts
It is becoming hard to talk about mobile as something separate from other digital experiences, and the numbers bear this out.
Google released a report called "The New Multi-Screen World" which notes that 90 percent of mobile users use more than one device sequentially to accomplish a single transactional activity. This has implications for organizations working to craft engaging customer experiences that produce results.
Two things to consider when designing sequential connected experiences are the contexts of those experiences, and maintaining a balance between mobile optimization and parity of customer experience across devices.
Understand the Customer's Contexts
Context surrounds us all the time, every day, but developers have gotten in the habit of only thinking about desktop context, for many years that was the only one that mattered. The rise of mobile, particularly omnichannel mobile, has forced experience designers to go beyond their simple static context model to a complex functional context composed of three subcontexts.

User context is probably the most important. We define it as the set of behaviors you want to perform with the application. It's very much about the user's state of mind, and their level of engagement with the application. I can't overstate the importance of thinking about user context when you're working in mobile.

The device context, considers the devices used in the experience. Changing form factors are adding a layer of complexity to device analysis.

The last is environmental context, which is about the location of the user. It's the physicality of mobile which distinguishes it from a desktop interaction.

For example, Cantina built an iPad sales enablement app for a financial services firm's sales reps to interact with advisors in the field. Stakeholder interviews revealed that those meetings might be in offices, restaurants, cars or homes. Their environmental context was dynamic. As a result the application needed to work offline, which meant discovering the critical actions the customer must to take in a dynamic environmental context.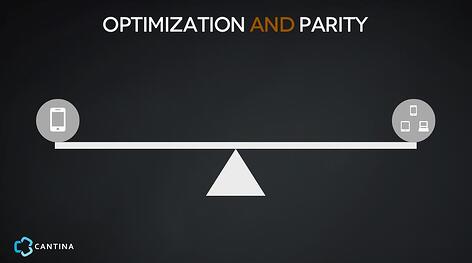 Striving for Balance Between Optimization and Parity
For the customer to have the best possible engagement, an organization's online experience must be optimized for mobile. This means that the user interface must be redesigned, and often streamlined, to be useful on small-format touch screen devices with potential bandwidth restrictions. This also means that content displayed through the interface must be optimized for mobile, such as shorter headlines, smaller text blocks and different metadata.

It is important to find a balance between optimizing content and interactions for mobility and maintaining a parity of experience on different devices. Customers expect to visit a site on their phone and find the same features and content they would have seen on their desktop.

Media companies, such as The Boston Globe and National Public Radio (NPR), seem to do the best job of balancing optimization and parity concerns. This may be because they are in the content business, and have the institutional expertise to manage issues which are often perplexing to other enterprise-scale organizations.

As multiple mobile interactions become a ubiquitous part everyone's day, organizations are redesigning the opportunities for interaction they offer their customers.