Full disclosure: Agency Oasis was the developer behind our beautiful new FutureM site. But that means we have firsthand experience in knowing just how awesome they are to work with. We presented them with a huge challenge for this year's site, and they tackled it with great ideas, open communication and a lot of hard work. They have won many awards and certifications - like being a top-tier Certified Sitecore Partner - but we love them most for delivering on what they are all about: solving problems while having fun. Read on for more about this awesome agency.
In 14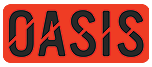 0 characters or less, who is Agency Oasis?
Agency Oasis is an inspired group of user experience and technical experts dedicated to solving complex digital problems, creatively.

No character limit, this time - tell us more.
A lot of agencies out there pride themselves as being fun and brag about it with foosball or ping pong tables, beer machines and a fridge full of red bull. It's a fine tact but that isn't us. If we thought we would get work harder with the advent of a pool table in the office, trust us, we would go buy two.

But work is supposed to be challenging and we thrive on it. And that is at the core of who we are.

We are different than other agencies; we have varied interests and extracurricular activities that vary from dangerous to eccentric and we love each other for it, sometimes even trying out each other's. The glue that keeps us so passionately attentive is that we know the problems we are solving are for people. Clients aren't just the label we throw around as though we are talking about a contract, we serve people.

Of course, such hard work demands some letting off of the proverbial steam and we tend to do some of that together too; whether its beers and dinner, concerts or even a weekend ski trip. But we keep in the forefront of our minds the true test of any agency is the willingness of their clients to speak up about them referring them again and again. Our clients truly enjoy working with us because we know when it's time to talk baseball and when it's time to talk business. And we do both, very, very well.

Oasis was founded in 2001. What was your vision when you started the company, and how has it changed with the transformations in the technology and digital landscape?
Oasis began as a technical shop with industry leading consulting and strategy, guiding advertising and marketing firms as well as client departments on how technology would enable the expansion of and speed to market with their marketing needs.

We did this because 11 years ago we saw this space transitioning into a technology driven market rather than a creative one. As that reality has set in through the advent of robust content management systems, user devices and integration possibilities we again looked forward to what our customers needed and expanded into User Experience including design and information architecture. This added new levels of service and expertise to further push our clients beyond what can be done now and envision roadmaps that allow for the adoption of technologies and business requirements that can't even be fathomed yet.

FutureM is one of your clients and we partnered with you on our new site. We now have a beautiful digital experience that expresses the size and scope of our event. But we know we presented you with quite the challenge in this project! Describe the project from your perspective.
Timeline and budget always are a challenge with any client, and the FutureM project was no exception. In fact, the project required an uber-aggressive timeline which informed decisions being made around technology and robustness of the solution. What resulted was a highly choreographed dance between FutureM, the design firm and Oasis. By taking the time to choreograph this dance, it allowed each group of the team to focus on what they owned and communicate clearly and without barrier with one another on dependencies and obstacles.

The results were astounding with a CMS driven site that has complexities and integrations that could have taken twice as long to work through had the management of the process not been held so tightly. It is a testament to Oasis for sure, but to FutureM even more so by understanding the nuances experienced by their vendors and respecting the guidance and parameters needed to reach the achieved goal.
(Note from MITX: We cannot thank Oasis enough for the leadership they showed and all the work the team put in to work with our timescales and budget. Thank you, team Oasis.)
At FutureM, you're going to be discussing a session on Personalization. Why do you think this topic is important to the future of Marketing?
Without question this is the future of local and global marketing. The idea of providing the right message to the right user at the right time has always been a core objective by advertising, marketing and sales executives.
Not until recent years have the capabilities been available to the average business.

We see moderate examples of this with sites like Amazon and Overstock who built their own platforms and entered the marketplace with technology, not ahead of it. The reason that personalization isn't as wide spread as it could be has a lot to do with cost of entry barriers, particularly with Fortune 500 and global brands. The budget required to utilize the volume of data they or their vendors store is not small; many of these businesses weren't built on top of technology, they were built alongside it. And the level of strategy, management and planning involved is very considerable.

What we have done is broken down that axiom into smaller segments and are looking to show how a more conservative road map to personalization can be met while showing value and allowing businesses to assess impact over time and build from it. The notion of digital assets as a house you build once and then live in, is quickly dying and in its place companies are begging for a model where sustainability, extensibility and ownership become the important measures of success internally. Our approach meets those needs and can be scaled up or down depending on the access to budget and time.

FutureM is an exploratory event experience. What are you doing at your session that will enable attendees to not only learn but explore, discover and be hands-on?
The funnest moments at Oasis are the ones where we get to explore and create. Don't get me wrong, we like the "doing" part of it as well, but being creative in how we solve problems is the mother's milk of Oasis. We took that approach to FutureM and rather than creating an "hour of podium and powerpoint your life will never get back" we challenged ourselves to think of how we can resonate our thinking with the audience in a way that will keep them coming back for more.
The result is the involvement of four of our top strategists, and a childhood toy that predicted the number of kids you were going to have, when you were going to get married and the kind of car you would own. Of course, we are going to answer different questions with it.
Oasis' FutureM session is on Thursday October 25th at 4:00pm at Fidelity's Center for Applied Technology.
Buy your pass now to attend!