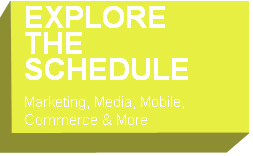 FutureM is coming soon, and we're really excited! For the next several weeks, we'll be sharing the event schedule with you in segments. Make sure to buy your pass to get access to this whole week of amazing events! MITX members: e-mail info@futurem.org to get the discount code that gets you $100 off your FutureM pass!
6:00PM-8:00PM

Entertainment Without an Entertainment Industry?
Marketing
Is small the new big? Are niches the new centers of power? Have we gone from Warhol's famous for 15 minutes to Clay Shirky's famous to 15 people to famous to 50,000 people'? This presentation examines these questions with specific reference to the micro-stars of YouTube, blogs, and Twitter, whose fame has been facilitated by open and ubiquitous digital media platforms. As we now live in a world where celebrity is not something only consumed by us, but also manufactured by us, the presentation explores how, why, and to what extent, we the people contribute to its construction.

Venue - Hynes Convention Center

The Future Lies in the Social Graph
Marketing
All we read about these days is the promise of "Big Data." There's no telling how much data is out there and will become available. But with a fundamental disconnect in how this data can be translated into actionable value, uncharted opportunity remains. Having the data is one thing, but knowing what to do with it is another.
The future lies in the social graph -- the missing link between advertising and our interactions on the Web. By tapping into the social connections between a brand's loyalists and her closest friends, the social graph revolutionizes the degree of advertising effectiveness.

Host Organization 33Across
Venue - Hynes Convention Center

The Future of Marketing is On-Demand: Insights on the Next Generation
Marketing
Obsessed with millennials? In just a few years, we'll see the rise of another group of consumers: the on-demand generation. As pre-teens they already have buying power and their rise will fuel a new commerce structure that is mobile and instant. They've had cell phones their whole lives, they watch television through their X-box, and have the shortest attention span of any generation. So how does a brand keep their attention? John and Jodi Robinson, husband-and-wife team at Digitas, SVP of Creative and SVP of Marketing, will provide a unique perspective as both marketers and parents on the habits of the next generation of consumers, and what's in store for marketers. Come for the insights, stay for the unexpected guests.

Host Organization DIGITAS
Venue - Hynes Convention Center

Mobile First: Reimagining Your Desktop, Tablet, and Smartphone Experience
Mobile & Commerce
Mobile First is more than just a UX design buzzword, it's an entirely new way of approaching a brand's web strategy. Instead of starting with a desktop site and cutting away at the content until it fits on a mobile screen, we will teach workshop participants how to begin at square one with an amazing mobile experience and then expand to tablet and finally desktop.In an increasingly mobile world, if a brand isn't thinking Mobile First, it's going to get left behind.

Host Organization Bluetrain Mobile
Venue - Microsoft's New England Research and Development Center

Brew Lab
More
Facebook is the future of engagement marketing, and it's about more than sweepstakes and coupons. Facebook fans demand a voice to influence the future of the things they love - letting them become a piece of their favorite brands' history. Napkin Labs will demonstrate how open collaboration and storytelling with Facebook fans helped influence products from local Boston breweries. New products will range from the beer we drink (hooray!) to the way it's packaged, marketed and made! This ain't no cocktail hour, this is a beer tasting party with some of the coolest new breweries emerging from Boston's nano-brewery movement!

Host Organization Napkin Labs
Venue - WorkBar

8:00PM-10:00PM

Find Your Future
Marketing
New to FutureM this year, Find Your Future is a night of networking for industry professionals and Boston's most promising prospects in the fields of marketing and technology. FutureM searched for students who demonstrate superiority and passion in the areas of creative, strategy, and tech and will be bringing them to the event to introduce them to professionals. We invite you to network with the best and brightest to make friends, connections, and to find your future.
Created by FutureM's Student Thought Leaders - a group of undergraduate students engaging their on-campus communities in FutureM.

Host Organization FutureM Student Group
Venue - To Be Announced!