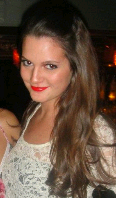 By Hannah Fleishman. Hannah is an intern at MITX. She is a rising senior at Emerson College and grew up in Italy, Germany, and Egypt. Hannah is passionate about traveling, writing, marketing, and smiling.

Emerson College hosted a social media panel last year. I arrived excited and left with mild anxiety. One of the panelists suggested that everyone have a blog to show potential employers that you're passionate about something. I didn't have a blog, so naturally I just heard "you will never be successful." I needed to start blogging. I didn't know what I was going to blog about but I had to think of something, otherwise I was a passionless pit (is that copyright infringement or is it word play?).
My friends all use Tumblr so I created an account, spent too much time picking out a free layout that someone else had designed to express my creativity, and decided this would be a travel blog. Original, I know, just like my layout. But hear me out. I spent 15 years growing up overseas. I travel back to Egypt twice a year and figured I could blog about life as an expat, or post anecdotes on being a third culture kid. Now I could say I dabble in blogging while shamelessly showcasing how worldly I am. I couldn't believe how easy it all was.
When Blogging Goes Wrong
A few months and three blog posts later, my Tumblr page was a ghost town. I rarely posted, so I had forgotten my password and I think I saw a Tumblrweed roll by the homepage once. I realized I couldn't show off my passion via Tumblr because I was too embarrassed to give anyone the URL; the infrequent posts would make me look lazy.
I checked out some of my friends' blogs, ones that would be considered "active" on Tumblr, to see what I was missing. I discovered that many Tumblrs are 90% reblogged photos or posts and 10% original content from the blogger. Is this what the social media expert meant? Would I be viewed as passionate if I created an online collage of other people's posts? I know there are lots of great blogs out there with minimal reblogged content and valuable original work whether it is photography, art, prose, or opinion pieces. These are bloggers I can admire and bloggers who deserve to show off their URL. I had hoped to be a blogger like that. So why couldn't I do it?
Blogs Aren't One Size Fits All
The medium didn't match my purpose. I was blogging to show that I had interests, that I was well-read and a good writer, I was blogging to have an extra ingredient on my resume. But because Tumblr is public and I was writing not for myself, but for employers, I found myself de-personalizing anecdotes or holding back opinions. The censoring made blogging feel like a chore. Also, I wanted to write. I didn't want to post photos or .gifs or songs. I wanted to post words on words on words, and I realized that Tumblr isn't the right vehicle for that. Tumblr is about visuals, about being entertained with minimum effort put in. No one scours Tumblr during peak procrastination hours to read my rants and stories. I am not an entertainer, just a storyteller with a hesitant blog.
Defining Blogs
I said it once and I will say it again: forced social media is doomed from the start. I started blogging for all the wrong reasons. I wanted it to prove that I am passionate and active on the social web. The beauty of blogs is that everyone can have one, everyone has a platform to express themselves online. But does that put the Limbo stick too high? Are original, valuable blogs being lost in the sea of rebloggers and bandwagon bloggers like me? Ultimately, blogs are a mystery to me because the definition is still in the making, and that definition is being shaped hourly by anyone who calls herself a "blogger."