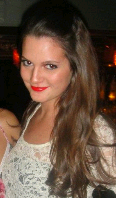 By Hannah Fleishman. Hannah is an intern at MITX. She is a rising senior at Emerson College and grew up in Italy, Germany, and Egypt. Hannah is passionate about traveling, writing, marketing, and smiling..

A few months ago I was scouring the Web for a paid summer internship - the four leaf clover of student work experience. I came across a job post on Craigslist that read "Paid Social Media Intern," a diamond in the rough. I opened the link and learned that an unnamed (classic Craigslist) firm was looking for someone to keep its Twitter and Facebook accounts updated and relevant. The schedule was flexible with a minimum of 10 hours a week, all from home, for 20$/hr. Was I being tricked by the big bad Internet? Could I really get paid $200 a week for doing something I had never been trained to do? Something I do for fun? Oh, the perks of being a millennial. Before coming across this job post I did not have social media listed as a skill on my resume; I assumed that was expected of me, having been born in the '90s. But we all know what happens when you assume.

Since the Craigslist post I have been asking myself, is social media a skill? Sometimes I think yes: Emerson College recently added a social media course to the marketing curriculum, services such as Klout rank your social media influence, BostonTweet guest speaks on the topic because he is just that good. Clearly it is something to be practiced and perfected, like any sport or instrument.
But sometimes I think no: in a survey I sent out via Twitter and Facebook (oh, the irony), 85% of respondents said that they are social media savvy due to personal use. Social media has become the henchmen to procrastination; but most importantly, who can't navigate social media? I wrestled with the idea of putting social media on my resume because I equated it with typing or mailing a letter. But the nameless firm opened my eyes; I am sitting on a skill somewhat foreign to the most important part of any industry: the part that hires.
If social media is second nature to my generation, then how can I market it as an individual strength? I've discovered two responses:
Social media alone is not a selling point, but it is a valuable difference between you and another candidate. If you are trying to decide between two restaurants for lunch, the one with free refills will always win. Social media is your free refill.
If the other candidate has free refills too, your advantage should be authenticity. From my survey I found that 40% of respondents have learned to navigate new social media platforms purely for the purpose of applying to a job or internship. Forced social web interaction is glaring: you should enjoy your social media presence and let your personality play the largest role, not just your career motives.
I crafted a way to weave social media into my resume without feeling like a sell-out. For example, many friends list their Tumblr URL on their resume; I opted not to because I joined Tumblr briefly and felt more obligated than inspired to post frequently. However, I did write a popular blog post for HerCampus on the Egyptian revolution, a movement I am interested in, and gave the piece its own bullet point on my resume; a hefty donation when you're squinting at font size 9 to keep it under a page. I sprinkled some Twitter, YouTube, and Klout information (yes, it appears I am influential about McDonalds) into the marketing experience descriptions because I want to show I am capable. But I hope my online content speaks to my motivation and ability to use social media as a marketing tool, a skill I am constantly developing day-by-day, tweet-by-tweet.