Guest post by Nan Li, Associate, Bain Capital Ventures. This is one of several guest posts in the MITX 2011 Perspectives Blog Series. Stay tuned for many more posts by Boston's most influential thought leaders.
This has been a great year for technology, as innovators and investors made the headlines in droves and the industry bounced back from the depths of the recession. It has been a year filled with breakthroughs in many areas such as the check-in, the group purchase, the tablet, the internet TV box, the flash sale, and the ever-increasing importance of the social platform. Also, let's not forget the critically-acclaimed studio movie about starting a tech company.
With an outlook of continued growth in startup investment and exit activity for next year, the American innovation machine is well positioned for a successful 2011. Here are a few areas that I will be keeping an eye on:
1. The expanding role of mobile in everyday life.

No, this is not a recycled post from 2007. While there have been many advances in the past few years in making smartphones more functional and connected, there are many untapped opportunities and use cases for the platform for 2011. The unprecedented combination of technological capability and user capacity today create a ripe environment for new solutions to emerge.
According to comScore, 1 in 4 mobile phone owners in the US now use a smartphone. Not only have smartphones captured a large chunk of the population, but the table below shows that consumers are using it in more ways to access more content than ever before.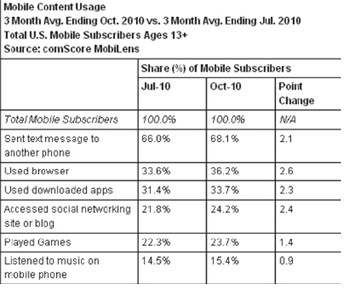 Enterprises will increase investment into work-related mobile applications, which will further expand the role the devices play through the course of the day. As users are further trained to pull out the cell phone as they go about daily tasks, there will be more opportunities for interaction between the digital world and the physical world with the cell phone as a data tracking and delivery platform.
a. Mobile Loyalty: With an expansive user base that has warmed up to the notion of tracking spending history and whereabouts with mobile apps, retailers are becoming increasingly interested in this new avenue to reach customers. This is a great opportunity to tie together the worlds of traditional brick and mortar and digital retail. Retailers will leverage this channel as an extension of CRM that is better than flyers or untargeted mail.
This is good news for everyone, as there will be an increasing amount of partnerships for retailers to track their customers and offer targeted, location aware discounts automatically (location gaming will actually get monetary incentives). This area is likely to remain fragmented, with multiple services offering a variety of discounts and making direct partnerships with retailers. Large national chains are likely to take out the middleman and release proprietary "loyalty" apps to do the same thing.
b. Near field communication (NFC): The first models of NFC-enabled phones have started to roll off the presses and there will be SD memory plug-in retrofits offered for existing phones. The ability to respond to physical swipes will further lower the barrier for users to interact with their phones. The use case for this will range from enabling cell-phone powered payments to giving users easy access to check-in or recommend a business online (see Google Interactive sticker trial in Portland).
Large players are making moves in the mobile payment space - with a scheduled rollout of the "Project Mercury" NFC pilot next year organized by Verizon, AT&T, T-Mobile, Discover, and Barclay's. With payment and loyalty onboard, the mobile wallet will be making strides to replace many of the cards and paper that are carried around now.
2. Services will leverage social platforms to customize online content to users.

The traditional process of sorting through large amounts of untargeted information on the internet is being disrupted by social platforms and aggregated user data. There will be an increased empowerment of users to curate and share personal taste in commerce and content to the community. The technology will make sorting through the new collection at Saks or following a blog RSS feed seem antiquated and tedious.

a. Social Shopping: Products that are highly personal and taste-based (e.g. clothing, accessories, home goods) will have new avenues and communities to be rated and shared amongst friends. The ability to follow brands and users whose tastes match your own affinity will lead to a large opportunity for boutique stores and lifestyle brands. They are like to see greater engagement and scale of audience than ever before.

b. Information/News: The same interest-based targeting of social shopping will be used in major sources of information. Online magazines and newspapers will record your favorite topics and bubble up relevant articles from all sections.

c. Advertising: Social and search retargeting will power more and more of online display advertising. These services will pull from multiple sources of social data to gather personal taste (see point a.) for every user. As a result, display advertising will be highly relevant to an individual. There will be some hubbub about this from the public, but they will realize how nice it is to have more ads online be useful and relevant.
2011 will be an exciting time for various platforms to come together to offer a personalized experience for users online and on-the-go. There will be opportunities for great businesses to be built – and hopefully some screenplays to be written as well. Looking forward to it. Seasons Greetings and Happy 2011.
Share your predictions for the future, and stay tuned for more posts in this series!
Did you just discover this series? Don't worry! You can check out our last post, by Edward Boches, here!