By Edward Boches, Chief Innovation Officer at Mullen. Check out his blog, and find him on Twitter! This is the first of several guest posts in the MITX 2011 Perspectives Blog Series. Stay tuned for many more posts by Boston's most influential thought leaders.

By now we're all tired of "My predictions for 2011" lists and blog posts. Every year they get more and more like Christmas ads. They start earlier and go on for longer.

I avoid reading them, assuming they all say the same thing: mobile will be the first screen, location-based will get even bigger, iPads will replace laptops, game dynamics will be the newest influence technique, retail will go all social on us, the Internet of everything will finally arrive, the start-up investment bubble will burst.
Oh, and the Department of Defense will announce some kind of partnership with Zynga in the fight against terrorism.
So instead of making predictions – they're either obvious or wrong anyway – I'll offer up what I hope happens.

Schools will teach kids to write code instead of how to use PowerPoint

Too many public school systems fail to teach programming until high school. Instead we teach kids to use PowerPoint and other programs. Have our educators not read Douglas Rushkoff? Or Jaron Lanier? Just open a Facebook account and it's evident that the web and its creators are programming us. We're forced to fit personal profiles into pre-determined templates. We squeeze our ideas into fields that someone else has prescribed. We're even told that the only way to organize content is in cute little desktop folders. Don't get me wrong. I love Apple, AppMakr, Weebly, Wordpress and Posterous. But I don't want my kids (or anyone's kids) to be programmed. I want them to be programmers.

More people will start businesses with a conscience

I watched this year as Sheena Matheiken launched The Uniform Project.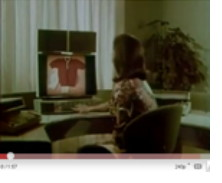 To raise money in support of Akanksha, Sheena wore the same dress every day for a year, changing her appearance daily with nothing more than donated accessories – belts, scarves, vests, leggings. Using Twitter, Facebook and a blog to promote the project, she raised $100,000 to send kids to school in India and amassed a large enough following to start a sustainable fashion company. Today Sheena "uses fashion as a vehicle to make acts of charity more inspired and playful, enabling individuals to rise as role models of style, sustainability and social consciousness." Sheena's selling dresses, raising money for charity, and in the process, pioneering a new business model. I'm hoping for more Sheenas in 2011.

Teachers and parents will learn to detect cyber-bullying

The problem will only get worse if parents and teachers don't learn to detect it and help kids avoid it. We spend too much time determining the appropriate punishment for bullying instead of making an investment in educational programs that might help prevent it. The solution has to start with parents paying more attention to how their kids use technology and what they're doing online. Too many parents remain less technically savvy than their kids. They don't know how privacy works. And they haven't counseled their children on the pros, cons and risks of being online. I'm not suggesting that parents violate a kid's privacy, but we can't leave 13 and 14 year-olds entirely to their own devices in the new digital world.

The digital divide will start to narrow

Those of us with broadband access, smart phones and all the tools for being connected in the networked world take the Internet and the Web for granted. But according to the Pew Research Center, while 95% of upper- income households use the Internet, 37% of lower-income households do not. Similar disparities emerge when you look at Internet use according to education. The same report reveals that 96 percent of college grads use the Internet compared to only 52 percent of people without a high school diploma. If the web is the new way to learn, the best way to connect, and the most efficient way to shop and save money, they need Internet access just as much as the affluent do.

Design will become huge instead of small

For most of us it's the sleek look of Apple's products that epitomizes modern design. But I'm hoping this year we embrace a new definition of design -- one put forth by Ideo's Tim Brown. Design needs to be big again and more companies and organizations need to embrace design as a way to solve real problems: bringing potable water to the places on earth that suffer from drought and pollution; reducing automobile congestion in our cities (government and engineers have failed miserably); improving how we deliver health care. Design and design thinking may be our greatest asset in solving the big problems, especially now that we can crowdsource, co-create and instantly mobilize communities. As Tim Brown says, "design is too important to be left to designers." In fact it just might be the solution for how to solve all the challenges listed here. Then they wouldn't have to be wishes. They could become predictions.

What are your thoughts? Please share.