The MITX Membership base has grown like a pack of rabbits in Q2. Or maybe more like America's "couch time" since Mad Men came back last month? Whatever metaphor you choose, you still see the high volume of new companies that have joined the ranks as MITX members, and multiplied our numbers by encouraging their employees to take advantage of the membership.
If you're a corporate member, don't forget - everyone in your company can benefit, attend events for less, post jobs or news, and more. If you are already a corporate member and want to start registering your employees so they have access, simply log in and choose the "Add Member of your Company to MITX" option. If you aren't yet a member, or are having trouble adding employees, contact us at info@mitx.org
Q2 brought over 20 new corporate members, and nearly 40 members renewed!
See below for the breakdown of the members in Q2: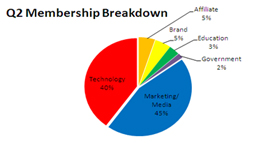 We're honored to have such an extensive list of members. Take a moment to peruse the member directory and you may find the exact service provider you need – or maybe your next client. Click here, to surf the growing directory of members, and don't forget to log in to obtain full contact details and more information about the companies in our ranks.