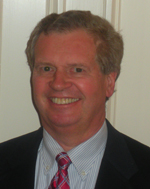 MITX congratulates Bill Bulkeley, who will receive a Lifetime Achievement Award at the 7th Annual MITX Technology Awards ceremony on June 2nd in Boston, MA.
Bill was the Wall Street Journal's high tech reporter in Boston for most of the last 30 years, covering the rise and fall of the minicomputer industry, the dot-coms and individuals that shaped the digital revolution. Since News Corp. closed the Journal's Boston bureau at the end of 2009, he has been working as a freelance writer and editor. He also has started a consulting and research business called Green Line Research Inc.
We had the opportunity to chat with Bill about being selected for this honor, as well as hearing about his career highlights, his predictions for the future of tech, and what he'll be speaking about on awards night!
How does it feel to be honored with a Lifetime Achievement Award?
Besides feeling too young to receive a lifetime achievement award, I am honored to think people have that type of perspective on my career and work.
What kept you going as a high-tech reporter for 30 years?
Journalism is all about change, and as a high-tech reporter, every month I saw something new and really exciting was happening. People would come up with amazing new products that promised to really change our lives, and I got to follow it.
Why did you choose Boston as your base?
Originally, I chose Boston for family reasons. When I moved from the Los Angeles bureau in '79, technology was less important, but with some effort I persuaded my editors to expand coverage of the mini-computer business and new innovations in the technology industry as it was becoming more important.
What have been your favorite stories during your career? Certainly, covering the rise and disappointing decline of Digital Equipment and Wang Laboratories.
In recent years, it was covering IBM whose revival as a major force in the computing industry became a big story after its influence had waned in 90's.
Also, covering the entrepreneurs that emerged with really exciting ideas. Many do not end up with workable businesses, but it was always rewarding to talk to them and see how their imaginations worked.
What advice do you have for Entrepreneurs in the Technology Sector?
It seems that if companies have an idea, they need to do their best to pursue it. Many turn into huge opportunities, and they really do have potential for improving the way people live their lives.
Which start-ups have been most memorable to cover?
Akamai was one of the great entrepreneurial success stories and I did some of the early coverage. It was one of my favorites to cover; it faltered and rebuilt itself despite the tragedy of the death of one of its founders.
Lotus Development was a wonderful story for a number of years, even though they didn't succeed.
What are the 3 most impressive New England Tech People that you had a chance to interview?
Mitch Kapor, founder of Lotus Development, who figured out how to make software and spreadsheets a major business and created a very impressive organization in many ways.
Dan Bricklin, inventor of the spreadsheet, who made one of the most impressive developments by taking it from hobby stage to be recognized as a serious business tool.
Ken Olsen, founder of Digital Equipment, because while he made terrible business decisions in the 90's, he created a huge company. It was the biggest tech company that ever emerged in New England. As an entrepreneur, he created and built a company that at its peak was bigger than the auto-maker Henry Ford built during his lifetime. It really was the first computer company that successfully challenged IBM.
What do you see as being the next big things?
Cloud Computing - what a huge change in the way people think about computers. While incredibly disruptive to many business models currently in existence, it is certainly the way that people and business and are going to move forward. To always have your data and information available and accessible is just a huge change from the way it was before.
Smart phone - It will be the device of choice for most of the world. Computers as we know them will be changed because people will decide that their smart phone is the only computer they will need.
What has been the biggest surprise during your career?
The total demise of the Massachusetts computer industry. Digital Equipment, Data General, Wang Laboratories and Prime Computer were the dominant new models for computing. They had tremendous assets, great engineering, and a strong business model that seemed unstoppable. But in the span of about 5 years they disappeared. It still amazes me that all that business could go away completely so quickly.
We look forward to the ceremony where he will share his insights on how technology has changed, and how it has transformed our lives. Buy your tickets today to spend an evening with this year's Lifetime Achievement Award winner, Bill Bulkeley!