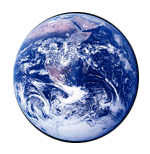 Does anyone else notice some tension on Earth Day? Companies are improving their products and educating consumers as part of their Earth Day celebration, but as the New York Times put it; "to many pioneers of the environmental movement, eco-consumerism, creeping for decades, is intensely frustrating and detracts from Earth Day's original purpose. "This ridiculous perverted marketing has cheapened the concept of what is really green," said Denis Hayes, who was national coordinator of the first Earth Day, "It is tragic." (Complete article available here).
However, Earth Day is a day designed to inspire awareness and appreciation for the Earth's environment. Which seems to be what companies, and their marketers, are doing - inspiring awareness. While a cynical view of the day could lead us to conclude that companies celebrating the day with commercials, products, or campaigns are cheapening the purpose and real intention of the day - you must admit they are raising awareness for the environmental movement.
As Robert Stone, independent documentary filmmaker put it; "Every Earth Day is a reflection of where we are as a culture," he said. "If it has become commoditized, about green consumerism instead of systemic change, then it is a reflection of our society."
So where is society on Earth Day 2010?
Here at MITX, we can't help but draw attention to the fact that our society is heavily embracing Internet marketing, mobile, and social media to grow awareness and facilitate participation in Earth Day 2010. Check out some examples below:
Advertisements:
Greenpeace, GE, and Tupperware have all made Earth Day ads this year, however Sun Chips is truly the one to promote their efforts. Besides the ad below, they are also advertising their 100% compostable bag on the main banner of Youtube.
Mobile
CNET Asia put together a great list of iPhone apps available to connect users with eco-living tools in their post - Free iPhone apps for Earth Hour.
Social Media Campaigns
Besides a presence on Facebook, Twitter (notice the flood of #EarthDay tweets?), and other well-known social media sites, many organizations are hosting other social sites for people to engage with on the web. The Official Earth Day Campaign allows users to take action and share with the community how they are celebrating earth day. Providing inspiration and ideas for others.
Society in 2010 is clearly engaged with internet marketing, social media and mobile, and they have been for some time. These examples brings to mind a MITX Interactive Award winner from the past, Mullen with their campaign for National Grid which included a great ad as well as a highly engaging website. So, while this blog post does not have an answer to whether society is missing the true meaning of the day (however, we would love to hear what YOU think, so comment below), there is no question that the apps, ads, and sites are one of the people's top choice to accomplish the goal of raising awareness.
Any guesses on where society will be in 2011?