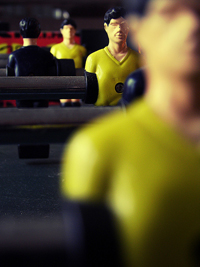 Get in on the 114th Boston Marathon action yesterday? Here's your chance at a second helping of excitement, spectacle and pure athleticism - The Tech Hub Foosball Tournament! I expect there will be a similar turnout of spectators, so make sure you mark your calendar, limber up those wrists and get ready to foos your way to the finish line!
Here's the low-down:
6:00 PM | Wednesday April 21, 2010 | Microsoft N.E.R.D.
Sign up here: http://fooschamp.eventbrite.com/
This championship foosball tournament is open to anyone in tech to play for fun, prestige and great prizes like strategy sessions and lunches with Massachusetts's tech leaders! Anyone interested in the success of the local tech ecosystem, and all foosball fanatics, should join fellow innovators for a playfully relaxed evening of fun and games and networking table talk! You can find out more here: http://www.techfoos.com/
How can you get involved?
Over the past 2 months, training sessions - held in the offices of local tech hub companies, have revealed the richness and dynamism of the Massachusetts Tech Hub innovation ecosystem, and the mad foosball skills of foos masters and novices from scrappy one-person startups to established Fortune 500 innovators.
Please sign up to attend: http://fooschamp.eventbrite.com/, and you can find out more about the fun and games at past events at: http://www.techfoos.com/
Hopefully I'll see you there - it's a great way to network and have fun on a Wednesday night! Let me know if you're looking for more events like this or if you are hosting one! Comment below.