A couple weeks ago was our Talent and Career Development Summit. The event brought together professionals from across industries and fields to talk about leadership, culture, and the workplace. Monica Faberman, an attendee, shares her experience.
Monica is an HR Generalist at Pixability. She has experience working with nonprofits, venture capital and startups. Professionally, she has always gravitated towards the entrepreneurial spirit and enjoys helping organizations grow efficiently. Outside of work she can be found practicing handstands, creating homemade coconut oil sugar scrubs and household cleaning products, reading multiple books at a time, and still trying to find the best Mexican food in Boston.
Networking is valuable. Networking is important. Networking is a great resource. Networking can make your career. Great, OK, got it. But wait -- I've never networked before. I understand it's important, but how do I work the proverbial net?
My humble advice is to just show up; but choose wisely, because your time is valuable. There is an abundance of professional opportunity in the Boston area for you to take advantage of. Do some research, and ask people around you for their recommendations (hint: you are already part of a network, whether you realize it or not). I'm lucky enough to have a manager who suggested that we both attend the MITX Talent and Development Conference, and I found it to be a wise decision. A day-long conference sounded like a daunting time commitment, and I wasn't sure of what to expect. But this conference flew by, and I walked away with several valuable nuggets of information, and a better understanding of how to take advantage of these types of events and leverage the nebulous network.
I work in HR at Pixability, a fast-growing advertising technology company in Boston. I care about efficiently growing the internal systems at Pixability in a scalable way, and investing in the talent and development of our employees. I also care about my colleagues and want to help create a cultural foundation that is collaborative, welcoming, responsive, and comfortable, but also allows us to keep up in a fast-paced industry. MITX brought in many industry leaders, with accomplishments ranging from building companies to taking on management positions, to lend their advice.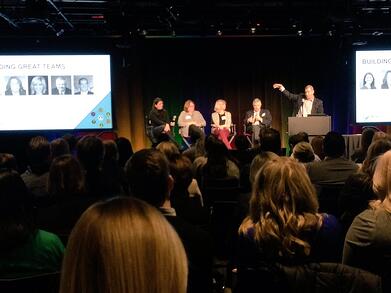 Steve Conine, Co-Founder & Co-Chairman at Wayfair emphasized embodying culture versus pushing verbal values, and how leaders need to remain humble and approachable.
Katie Burke,VP Culture & Experience at HubSpot shared her insight into internal communications: "If you are not failing, you are not communicating. Bringing failures and mistakes into the light sets a great example for the staff. Everyone makes mistakes, and things do not always go according to plan. If the leadership sets an open example, issues can be resolved in a constructive way. This is why it is important for leaders to demonstrate vulnerability and humility."
Reb Rebele, Research Fellow at Wharton People Analytics Initiative, University of Pennsylvania spoke about what motivates people to be generous and how understanding your employees' motives and why they want to contribute their time to your company can help you help them succeed.
Jessica Knapp, AVP & Director of Selection & Assessment at Liberty Mutual, and Emily Green, Independent Board Director & Advisor shared valuable self-assessment resources that she have found helpful in growing yourself and your team.
Sydney Atkins Mason, Investment Advisor at Goldman, Sachs & Co. shared how to be a good mentee and how to get the most out of your relationships with mentors. She recommended that before asking a mentor for guidance, first determine how they can best help you. Whether you need a cheerleader, an introduction, specific advice, or an opportunity to pick their brain, be clear on what you would like from a mentor. Also, be appreciative and demonstrate appropriate gratitude for the time and energy they are giving to you.
As a young professional building my career, I benefited from lessons for first-time managers, resources for personal growth, and advice on how to cultivate mentors (ie. actively build a network). I was left with many actionable insights to bring back to my role at Pixability. I hope this reflection inspires you to find some engaging professional and personal development opportunities in your community. Step one: show up!