Join us on December first for our MITX Design Summit: Design, Technology, and the Consumer Experience. To set the tone, Brett Bishop of Capital One wrote a blog on Boston's reputation when it comes to design and creativity. Register for the Design Summit here.
Brett (@bwbishop) is currently reimagining the way 60 million people interact with their money as a Managing Design Strategist at Capital One. As a design strategist, Brett leverages human-centered methodologies that shake up Capital One's products, processes, and strategies. Prior to joining Capital One, Brett researched and lectured on Consumer Behavior at the University of Florida and Carnegie Mellon University.
Over the past few weeks, I've asked people in a number of U.S. cities a simple question: "What's the first thing that comes to mind when I say Boston?" A few things I heard? "Harvard." "Patriots." "Amazing summers." "Terrible winters." "Healthcare." "MIT." As one might expect, we're viewed as a city steeped in history, academic prowess, and scientific acumen. Our reputation precedes us. I repeated this exercise with a number of other major U.S. cities and, again, collected a variety of answers – but this time, each city had at least one reference to a variable that Boston's descriptions had lacked. Boston's missing variable? A culture of creativity. Be it New York's anything goes, never sleeping lifestyle, San Francisco's dime a dozen startups, or Austin's music mecca – many of the country's other cities are seen as being fueled, at least in part, by uniquely creative pursuits.
Prime talent across design fields is drawn to that kind of creative culture. Any designer worth the money knows that their best work comes from being surrounded by others whose work inspires them and challenges them to look at the world from a number of different lenses. They land in places like New York or San Francisco based on the cultures of cities and companies that offer such a surrounding.
I'm willing to bet that more than a few of you are ready to disagree with me, armed with references and examples proving that Boston is, in fact, quite the creative place. I don't disagree. The Design Management Institute is located here. Continuum is headquartered here. Art schools abound. To those of us already living here, experiencing Boston day in and day out, we know that we have the culture that design thrives within. Yet, as the old adage goes, perception is reality. And the perception, inelegantly played out through my little experiment, is that DMI, Continuum, or art schools are not what Boston is known for. Even I, working in the design industry for nearly 10 years, wasn't aware of Boston's more creative side until moving here for other, completely unrelated, reasons. Boston is known for many great things – but the kind of freewheeling, exploratory, avant-garde culture designers need to thrive isn't one of them.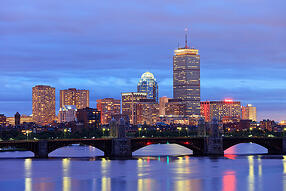 The reality is that companies born in Boston are more often feats of engineering than design. Major companies come to Boston to address their technical needs, not their creative ones. Boston's world-renowned universities are known for their technoscientific pursuits rather than their artistic ones.
Looking to the future, firms and individuals must recognize that many of the things that put Boston on the map actively work against creating the cultural perception necessary to draw in premier design talent. The question then becomes are we willing to modify the city's formula that has worked so well, in some regards, to date. Are we willing to prioritize the organizations, activities, and actions, and perceptions that create the cultural perception we need and change the reputation that precedes us?