Another insightful Data & Analytics themed blog post to share with you today. Our 2015 MITX Data Summit Advisory board has contributed some fantastic posts to give you a taste of the exciting content that will be discussed at this year's Summit on June 23rd. Interested in attending? Register here. This guest blog post is written by Marc Choquette, Digital Media Analyst at Genuine Interactive.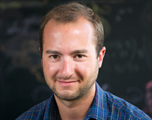 Marc Choquette has more than six years experience working in SEO and web analytics on both the client and agency side. He is a 2008 graduate of Pepperdine University and is currently a digital media analyst at Genuine Interactive in Boston's South End.
It may be hard to believe, but we're approaching 20 years of search engines playing a central role in our online lives. And since the advent of the earliest search engines, the effort to optimize websites for optimal visibility within those search engines has existed — a practice known as Search Engine Optimization, or SEO.
From a marketing and advertising perspective, SEO can seem like a dull instrument in the ever-expanding toolbox of today's digital marketer — overlooked as an effective digital strategy for a variety of reasons we'll explore below. But new data analysis advancements have enabled a new golden age of SEO, enabling marketers with a level of deep, quantitative visibility on keyword and page performance not seen in years.
Why is SEO largely seen as an afterthought by some digital marketers today, despite studies showing it still to be one of the most cost-effective digital strategies out there? There are a two main reasons:
The Dark Period — There is certainly a leftover stigma from the pre-2012 'Wild West' days when the backlink arms race valued quantity of links over quality and 'black hat' tactics usually won the day (and that #1 position). After years of wholesale link manipulation on an industry-wide level, the SEO was seen by many as an exercise in the dark arts. Since 2012, Google's 'Panda' and 'Penguin' updates have largely squashed those trying to gain an advantage via shady tactics, opening up those doing SEO the 'right' way to succeed and prosper — however, a lot of those less familiar with the SEO industry have been late to catch on.

Issues with measuring ROI — Around the same time Google started to go after link spammers, they began stripping away valuable keyword query data in the Google Analytics tool [see: (not provided)]. Without query data, many SEOs felt lost — they no longer had any visibility into the performance of the very keywords they were trying to optimize for. This made things more difficult for SEOs, already dogged by issues of proving ROI as compared to paid media, where ROI can be constantly monitored.
The early days of this decade were dark days for SEOs, but as with any change from Google (and there have been many, with increasing regularity), we learned to adjust.
Slowly, things have gotten better. Google slowly began giving SEOs keyword data back, and other tools have come out that help marketers better understand how their business is performing from a search standpoint. But I'd like to focus on just one of those tools: A few weeks ago, SEOs and marketers were gifted Google's latest offering — the new Search Analytics Report within their Search Console (formerly Google Webmaster Tools).
While Google had been giving SEOs organic query and page-level data in a more rudimentary fashion for a few years now, their latest update to the tool enables a new level of analysis and visibility not seen since the pre-(not provided) days of 2012.

Marketers can now measure and filter a wide variety of organic search metrics that, until recently, were not possible: For those who rely on mobile for ecommerce, you can now compare specific search visibility and performance metrics between mobile and desktop — something not possible within standard tools like Google Analytics. For those companies who do business overseas and are concerned about their search presence abroad, search performance within different countries can be compared. And everything can be set to specific date ranges and compared to previous dates.
It's also important to note the metrics in this report closely align with paid media metrics, giving a more quantitative, ROI-focused view into the data. And a metric like Average Position helps us make better sense of a more personalized search results experience — where different sets of results can be served based on location and search behavior.
There are thousands of different ways to slice the data, but what's important with the Search Analytics Report, in addition to other data sources available out there, is that as these tools become more robust and refined they help us better tell a story — which is key not only in the SEO world but in digital marketing as a whole. You can have all the data in the world, but if there isn't a convincing story to tell from it, it's just a bunch of numbers.
Its advances like this that make me excited for the future of digital marketing, and specifically data analysis capabilities — even for a historically ROI-challenged medium like organic search.