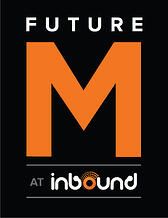 We're very excited to announce that we've joined forces with HubSpot to make FutureM and INBOUND a unified, remarkable conference experience in 2014. With this partnership, FutureM and INBOUND will bring thousands of marketers and a diverse array of best in class speakers to the Boston Convention & Exhibition Center this September.

"FutureM and INBOUND have always had a shared goal: to make Boston the premier destination for world-class marketers," Joe Grimaldi, Chairman of the MITX Board of Directors and Chairman of Mullen. "Both events have played an influential role in the innovation hub this city has become, and I can't wait to see FutureM and INBOUND together in action because this partnership will only drive more marketing and tech thought-leadership."
Of the partnership, HubSpot CEO and MITX Board Member Brian Halligan said, "FutureM and INBOUND represent a championship pairing to make Boston the unmatched destination for marketing conferences in 2014. Boston has long been home to leading agencies and marketing talent, so unifying two best in class conference experiences will make the city an even more prominent global destination for marketers--that's something we can all be really proud of."
Translation: FutureM will be held September 16th-18th at the BCEC under the same roof as INBOUND.
What does this mean for FutureM attendees? This year, in addition to all of the awesome FutureM content, you'll have access to INBOUND keynotes, happy hours and the INBOUND rocks concert!
How can we get involved? Buy a pass to attend, explore sponsorship opportunities, throw a party or host an event (see below).
We like parties. Tell us more! The week of September 15th is an opportunity to showcase Boston as a hub of modern marketing. We're incredibly proud of Boston's amazing companies and the extraordinary talent that powers them and we want to give you an opportunity for some show and tell. Want to host an event or party on 9/15 or 9/19 to bookend the week? Let us know and we'll happily promote it on FutureM.org.
Ready to join Boston's biggest marketing week? We can't wait to see you! Register today at www.futurem.org. If you have any questions, please email us at info@futurem.org – we'd love to hear from you!