To close out this week we have an insightful blog post by Matthew Crist, Principal at Cantina. Matt looks into the need to integrate the real world concerns into the process of product design. Interested in guest blogging? E-mail Taylor [at] mitx [dot] org.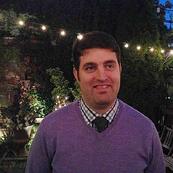 Matthew Crist (@matthewcrist) is a Principal at Cantina with a passion for crafting great experiences through an iterative creative process. In his career, Matthew has worked with companies like Macy's, McLaren, Rue La La, Fidelity and MTV. Recently, he has focused on working with startups to think about, and implement useful experiences on a budget.
The profession of user experience is often defined in a digital way. With the rise of mobile devices and fast cellular data speeds, it's time to expand the role of the traditional user experience professional.
Mobile is changing the way that we need to think about experience design. The experiences that we're designing today are no longer just digital. We must think about the user from a holistic approach that marries their physical context with the digital touch points that a company deploys.
Customers are show rooming (viewing a product in a store, but purchasing online) at an increasing rate. Rather than create experiences that discourage the show rooming behavior, retailers should think about ways to embrace and enrich these use cases.
The design of rich, connected experiences might entice users into a purchase that may have normally been lost due to show rooming. As experience designers, we are responsible for thinking about and solving these problems.
In order to get better at our jobs as designers, we must start thinking about our users holistically. We need to think about the technologies and systems that can we can employ to help mitigate any areas of potential concern.
The internet is a dynamic medium that can designers can utilize to solve an infinite number of problems. Designers should remember that our users will engage with the products we create on their terms. We should be creating experiences that are device agnostic so that we can achieve maximum exposure.
Most design processes spend a lot of time focused on the interactions that occur on a screen, but are lacking the real world concerns of users. Taking educated guesses at the typical contexts that users will engage with a product should become a standard step in the process of product design.
Experiencing the design in a real world situation can be tough, and this is one reason why design can benefit directly from actually using the products that you are creating while creating them. Designers should make sure that one of the steps in their process involves getting out into the real world for real testing.
By thinking about experience design as a holistic process, we can better understand the problems that will arise during product usage. This holistic design experience will require anyone working on a product to rethink the normal design and development processes. The end result will be happier users and better products.