Our blog theme for March is UX and Design and we are kicking it off with a helpful post from Magga Dora, Senior Experience Designer at Mad*Pow. Magga provides useful, easy-to-execute, steps for creating a better user experience.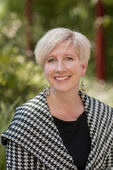 Magga Dora (@maggadora) has been making software products since the turn of the century. Now a senior experience designer at Mad*Pow with a background in psychology and computer science, she straddles the chasm between technology and humans, erring on the side of the humans. If she can help you, reach her at maggadora@
madpow.com.
I often get asked to review work-in-progress software from a User Experience (UX) perspective. Typically people ask right before a launch, so unfortunately it's too late for my feedback to really have much impact. So, I thought it might be helpful to share some easy steps for incorporating UX practices into the software development process.
While so many things go into UX optimization, there really is a simple bottom line: you need to talk to your users. Don't be alarmed! I'm going to tell you how.
Step 1. Identify who your audience is. Who are you making this software for?
Step 2. Identify the most important functions in your software. Then, write tasks based on these functions. For example:
Function: "Search for airfare".
Task: "Find the cheapest flight for one adult to Reykjavik, Iceland, for May 23-28 2014."
Now you are ready to meet the users.
Step 3. Find someone from your target audience.
Step 4. Ask him/her to use your software to execute the tasks you wrote. Meanwhile, observe and ask (in no particular order):
Can you read it?
By this I mean there is no yellow text on a white background or red on green? Is the font tiny or otherwise illegible? Is valuable information hidden in a picture so a voice browser can't find it?

Are you feeling overwhelmed?
Too much information and too many functions competing for the users' attention? Do they know where to look?

Do you understand it?
Is the user engaged? Does the copy make sense to him? Try reading it out loud. Are there too many tech words/inside jokes?

Are you waiting for something?
Your users' attention span is measured in seconds. Are those seconds spent waiting for something to happen? If so, your files might be too large. Check the size of your photos, and in general the amount of things being loaded.

How do you proceed from here?
Is there a clear call to action? Can users see it, or is the link/button hidden in the clutter? Can they also see it in the next step? All the way through?

Can you actually do it?
Is there anything that stops the user from completing the tasks? For example, a javascript bug that only shows up in certain browsers that cause the button not to work? Does the backend not respond?

Are you finished?
When the user does something, do you tell them what just happened?

Why did you do it that way?
Users are going to do things you never thought of. How will you incorporate their natural flow into your software design?

Do you care about this software product, and why/why not?
Is this something the target audience is looking for? Will it provide them with some value? What's their motivation? Can you tap into that?
Doing this just once, even on a very unsophisticated version of your product (mockups!), helps you not only know more about your user interface, but also know more about your product and your business.
We all want to create things that enrich people's lives. To create things that make people able to do something they weren't able to do before or to do something they are already doing, but better/faster/easier. There are very few things as thrilling as seeing users succeed using something you have created. Hopefully this exercise will give you that thrill. If not, you are in a prime position to fix whatever it was that was stopping your users.
Good luck!