We are continuing the MITX love into March with this awesome post from our good friends at Nanigans! Thanks so much to Laurie Cutts is the Director of Marketing at Nanigans for writting this post and to all of our awesome members for helping us spread the MITX love last month and all year round.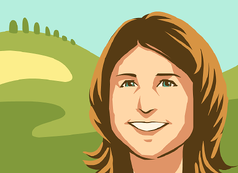 Laurie Cutts is the Director of Marketing at Nanigans, a venture funded social advertising technology start up in Boston. Previously, she served as head of marketing for Celtra, where she led global marketing efforts establishing the company as the leading rich media mobile advertising company. Prior to Celtra, Laurie joined the founding team of mobile content pioneer m-Qube and led their marketing efforts until it's acquisition by Verisign. She spent her early career at top Internet companies including Lycos and AOL. Laurie graduated from The George Washington University with an M.B.A. in Marketing.
With the MITX awards just around the corner, we decided to share how Massachusetts' biggest advertising association has made an impact on Nanigans since our inception in 2010. More specifically, we wanted to share 4 reasons why we love MITX!
Here's our list:
1. Everyone knows about MITX.
MITX is the most well known digital marketing association in New England. It's a tangible force among the digital community, entertaining, enlightening and engaging businesses across all categories throughout the year. From cutting edge startups and entrepreneurs to household brands and large agencies, MITX brings everyone together to understand the ever-changing world of digital, marketing and media.
2. Two words, "Amazing Programming"
MITX offers a variety of programming from panel sessions that explore the latest trends to networking events for professionals to meet and exchange ideas. Its annual Future M event is akin to NYC's Adweek, offering though leadership seminars featuring the industry's best and brightest. MITX sprinkles in other amazing events throughout the year. Nanigans presented to a packed house at their "Demystifying Mobile Marketing" event with leaders from not only the Boston mobile community but notable brands and agencies like Dunkin' Donuts, ESPN, Mullen and Hill Holliday. And of course we are huge fans of the 100 beers networking event where we can not only drink our favorite beers, but also connect with the who's who of the New England start-up community.
3. Recognition of the "Best of the Best."
Not to pat ourselves on the back, but out of 50 finalists Nanigans took home the award for Best in Show at MITX's 10 annual digital awards competition last year. The annual MITX Innovation Awards program is the largest awards competition of its kind in the area, recognizing innovations powering the future of marketing. It's the venue where the most exciting Massachusetts-based digital companies have a chance to shine. The winners are top notch, showcasing just how awesome the tech community is in New England. Judges included over 70 industry professionals with representatives including creative directors, designers, technologists, inventors and business professionals.
4. An incredible mix of people.
At nearly every event, we walk away amazed at the incredible mix of people that we've met. Take ecommerce companies as an example. From industry stalwarts like Google and Amazon to fast growing ecommerce companies like Wayfair and Rue La La, there's always an incredible mix of people to meet at MITX events from the hottest tech companies in the area.
MITX is an amazing organization that has had an incredible impact on Nanigans as we have evolved from an early stage Boston startup to a 140+organization with offices across the globe. If you are digital or technology marketer in Massachusetts, and you're not involved already, it's time!