Just in time for Valentine's Day we have an awesome post from Shauna Gallagher, Content Marketing Strategist at NorBella! Shauna takes a look at the various impacts that digital has had on the upcoming holiday. Interested in guest blogging? E-mail taylor [at] mitx [dot] org.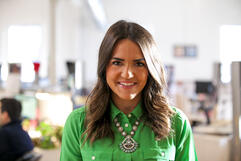 Shauna started her career in Public Relations, journeying through the ever-changing communications landscape into social media and content marketing. Shauna boasts experience with brands like BJ's Wholesale Club, Grey Goose, JetBlue, Bertucci's and Purina. Her work has been seen locally on Boston.com and The Boston Globe and nationally on The Today Show and Fox & Friends.
In today's digitally connected world, old-fashioned values, lasting relationships and in person expressions of affection have become endangered. The endless digital and social media channels available have downgraded us to impersonal and non-verbal communication when connecting with others. Falling in love only takes a click of button. Finding a date only requires filling out a few lines of personal information and uploading a few Facebook photos to a website like OKC, Match.com or an app like Tinder. Expressing interest in someone only takes a friend request or an Instagram follow. Let's be serious, everyone checks the Facebook, Twitter, Instagram and Google search results of their potential love interest before actually taking the time to get to know them in person.
Valentine's Day is the most intimate and personal holiday, a day to celebrate the love in your life with a partner if you're coupled up, or with friends and family if you're single, or both if you're a Hallmark type of person! But how has our ever-growing digital world impacted Valentine's Day? Time recently created a Facebook app that can predict when you should get married based on all of your friends' information, talk about the potential to make all of the unmarried folks feel more pressure! According to a recent survey by McAfee, 91% of respondents on Facebook, Twitter and Instagram plan to celebrate this Valentine's Day on social media. Today, handwritten cards and hand-delivered boxes of chocolates are replaced by texts, tweets, Instagram photos with an array of #LoveOfMyLife and #Blessed hashtags. We bet you're already dreading the influx in "I love you" and "You're my best friend" paragraph long status updates with a cheesy photo attached, whether you are coupled up or not. Even Mashable poked fun at our over-sharing, socially enabled world with "9 Internet ways to Say 'I Love You' to Your Tweetheart." Our personal fave was the "Day of Retweets," because nothing says, "I love you" like a RT! All of these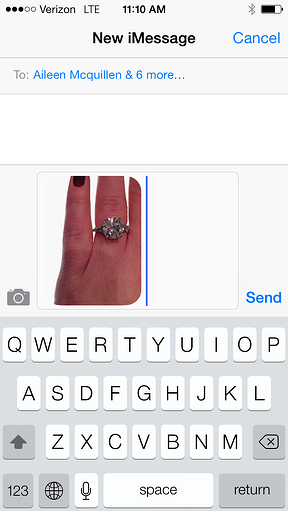 digital declarations of love, have meaning, but take little to no effort to create, and completely move away from the old days of professing your feelings to your loved one, not your friend list of 1,563 people.
My own life is living proof. Instead of my girlfriends getting the BFF's together to make an formal engagement announcement and show of their new sparkler in person, we get group texts with a picture of a ring on a nicely manicured finger. The texts that follow are an uncountable amount of exclamation points, and for the next half hour or so my phone blows up with "OMG" and congratulatory messaging from the group. Most recently, I got a text announcement that one of my newly married girlfriends was pregnant; and before I even thought "YAY!" I mumbled, "at least this wasn't a group text"! The way these life announcements are communicated really takes away from the moment.
While technology will never change our human desire to love and to be loved, it can certainly take a toll on romance and truly getting to know another person. A few characters or emoticons on a screen can never offer the same personal and emotional satisfaction that human-to-human interaction can create. Bob Deininger, a NorBella Digital Media Director and true romantic, weighed in, "Valentine's Day should be the perfect opportunity to shift from digital to direct interaction. While technology can help start relationships, it cannot deepen them." So this Valentine's Day, we challenge you to put your phone, tablet and laptop down and spend some personal time with your loved ones. And hey, if you get engaged, make the effort to call up your friends to show off your rock over a celebratory glass of wine. Let this Valentine's Day be a reminder that no digital or social platform can ever truly compare to enjoying another's company.